The Spa at Mandarin Oriental Las Vegas

How many times have you felt like your mind is racing in too many directions with not enough time in the day to fulfill everything on your to do list? Sadly in today's world we have become so busy, or we think that we are, that we don't allow ourselves the peace and tranquility that a spa visit can accomplish. The Mandarin Oriental Las Vegas understands we might not have a full day to devote to reducing our stress, so they have recently launched a new signature massage treatment, Calm Mind. Calm Mind is a luxurious 45 minute head, neck, back, and shoulders massage that was devised to do just that.
After their customary guest check-in that includes the exchanging of your footwear (thought to be a ceremony of leaving your worries behind) along with an inviting cup of tea, you will be ask to complete a diagnostic questionnaire to determine your Yin and Yang of how your body is feeling. Each has its own list of questions broken into five sections: Awaken, Bloom, Flouish, Release, and Reflect. Each section correlates with the five Chinese elements; Wood, Fire, Earth, Metal, & Water and although thousands of years old are still relevant today. The section with the most marks will give your therapist an insight into how your body is feeling. With this knowledge in hand you will choose an essential oil blend that will restore your inner being.
Your massage starts face down with a bowl of water infused with your essential oil to slowly breathe in and release the tensions of the day. Slow movements starting at the base of your spine and moving upward towards your head, neck and shoulders using small manipulations and rocking movements will sure to ease your mind. Upon completion of your massage you will feel your mind, body and spirit return to balance ready to face another day.
This Forbes Five-Star spa offers tourists and locals alike a first class relaxing atmosphere to enjoy that includes unique heat and water experiences, a Chinese Foot spa, beauty salon, and spa boutique. Arrive early and be transformed with personalized service the moment you enter. For reservations please call 1(888) 881-9530 or 1(702) 590-8886 or visit their website http://www.mandarinoriental.com/lasvegas/luxury-spa/.

************************************************************************
Casa Playa Spa
Rosarito Beach Hotel
Looking for a bit of history and plenty of sunshine on your next spa getaway? Then join in the Baja experience and travel south of the border to the Rosarito Beach Hotel & Spa. A short 30 mile drive from San Diego you will find inviting white-sand beaches and beautiful vistas and of course the Casa Playa Spa.
The Rosarito Beach Hotel & Spa was the original dream of Manuel P. Barbachano, a native of Chihuahua who acquired what was a small eight room property with only one bath in the late 1920's. As the years progressed so did the property and its surroundings. Barbachano married in 1937 and built next to the hotel a 19-room estate that today includes the Casa Playa Spa. A visit to the Spa invokes visions of what it must have been like to live on the property so many years ago. Beautiful Mexican tiles still adorn the building and only add to the rustic ambiance.
To help you restore your body and mind you will find the usual spa services along with a few intriguing body treatments using natural products from the sea and earth such as their Red Mud, Seaweed, or Casa Playa's Cactus Body Wraps.
Currently, the hotel offers a
Spring Spa Getaway
through June 27, 2014 and offers the return guest or first time visitor an outstanding value.
From $139* USD
Package includes:
One night in ocean front room
Daily Getaway dinner for two
Two 30 minute Swedish Massages
2 Margaritas
2 children under 12 stay free in parent's room (does not include dinner)
A Fast Pass for easier border crossing on your way back.
1 Additional night and dinner for two
From $89 USD
*Rates per room per night plus tax, based on double occupancy. Valid March 1st until June 27, 2014. Add $20 USD per night on Fridays, Saturdays and holidays. SPA only with prior reservation. No other discounts apply. Restrictions apply. Rooms in Coronado Tower. Subject to availability.
You can also take advantage of their spa specials without booking a hotel package if you prefer. There are usually a multitude of choices, so be sure and check their website
http://www.rosaritobeachhotel.com/
for the latest specials before your arrival. Spa amenities include use of their steam room, sauna and Jacuzzi for your enjoyment before your treatment.
Reservations & information call:
U.S. 1 800 343 8582 • MEX. 01 800 265 2322
************************************************************************
The Spa At Ravella

Hilton Lake Las Vegas
One of the best things about living in Las Vegas is the availability of some of the finest spas you will ever find. But what if you long for that out of town spa experience without the hassle of the travel and expense? Well, whether you are new to the city or a longtime resident, you will want to discover The Spa At Ravella at The Hilton Lake Las Vegas Resort & Spa just 20 miles from the Las Vegas Strip. Truly a destination in itself, The Spa At Ravella offers a multitude of activities and treatments offering a peaceful retreat to rejuvenate your spirits.
This 30,000 square foot two level spa with 24 treatment rooms is complemented by its own ladies and men's relaxation rooms, fitness center, pool access, and a healing waters area that includes a candlelit whirlpool, eucalyptus steam room, dry sauna, and cold plunge all included with any spa or salon service. Be sure to arrive early to enjoy all their amenities and distress before your treatment.
Choosing your treatment(s) you will find an array of options including facial experiences, massage and body therapies, treatments for two, and nail and hair services. For a truly luxurious experience, I suggest you try their Signature Journey To Balance treatment. This treatment embraces the concept of chakras.
A chakra is a vortex of energy. There are seven main chakra points on the human body which start at the base of the spine and finish at the crown. Using soothing oil blends that are formulated to comfort each of the seven vital areas in your body, your therapist will introduce each one formulated to correspond to a particular color and meaning. You'll find yourself deep in relaxation as you experience each of the essential oils starting with the Chakra Earth Energy (Red), meant to awaken the body and ending with the Chakra Hair Glow (White), nourishing for hair and scalp. You'll leave with a renewed spirit, resetting your energy and feeling ultimately rejuvenated. 80 minutes - $210.
One of the unique offerings at The Spa At Ravella is their Essence of Ravella Blend Bar. Here you can create your own signature combination of essential oils to experience at home by creating a personalized body lotion, sugar scrub, body butter, bath salts, or massage and bath oil. Custom eight ounce blends range from $30 for one blend or two for $55. They have also developed their own Limoncello private blend by Body Bliss that guests can enjoy at the spa.
For those living near the area, you can enjoy a Spa & Wellness membership ranging from $70-$160 per month offering spa access, guest passes, fitness classes, discounts and more. Locals can receive a 20% discount Friday-Sunday and a 30% discount Monday-Thursday on services and a 25% discount on products and devices the day of your service.
With seemly unlimited options to choose from, you'll want to experience this peaceful retreat. For additional information, please call (702) 567-4600 and book your experience soon!
************************************************************************
The Spa at Mandarin Oriental
According to the Chinese Zodiac, 2013 is the Year of the Water Snake. What better way to celebrate then to indulge in a day at The Spa at Mandarin Oriental, one of only thirty spas in the world to receive the esteemed Forbes Five-Star award. The spa is spread over two levels of the hotel with a total of 27,000 square feet and 17 treatment rooms. Seven beautiful spa suites provide an intimate, private setting to enjoy your suite experience. All suites feature two treatment tables, personal wardrobes and vanity areas, private steam showers, and in the Green, Red, and White Dragon Suites you also have your own personal soaking tub.
If you are visiting the spa on your own, oriental influences provide the perfect inspiration to enjoy your favorite treatment. This is not your typical spa, so do yourself a favor and arrive at least 45 minutes before your treatment to enjoy all the spa amenities. Upon your arrival you are promptly greeted and introduced to a spa concierge who warmly greets you with a hot cup of peppermint tea and a warm towel to refresh yourself in their reception lounge. After exchanging your shoes with their sandals (thought to be a ceremony of leaving your worries behind), you are asked to fill out a brief questionnaire about your needs and condition. Upon completion, you are shown to the locker room for a brief tour of the facility, and what a beautiful facility it is! Spa attendants are more than happy to fulfill your every request and offer personalized attention.
Take the time and enjoy the multitude of heat and water experiences before or after your treatment. The centerpiece of the spa is their Vitality Pool with floor to ceiling windows overlooking the Las Vegas strip. Melt your worries away while floating on one of the submerged chaise loungers. The pool is heated to a comfortable 102° F and equipped with air bubbles that give you the sensation of floating.


In addition to the Vitality Pool, you can relax in the steam room or Laconium room (a heated relaxation room with contoured bench-style seating). Feeling a little warm? Cool yourself off with ice chips from an ice fountain or an iced towel. If you are still yearning for a unique wet experience, then be sure and use one of the Aqua Experience Showers. Your experience will include your choice of Artic Mist, Body Spray, Island Storm, Tropical Rain or Cascade Lights. All are unique and offer their own water pressures and light shows.
Once you have enjoyed the heat and water experiences relax before your treatment in either the relaxation room, complete with fruit infused water, bottled water, and hot tea in comfy loungers, or retreat to my favorite spot overlooking the strip, a quiet and definitely peaceful room with four Tepidarium chairs.

Tepidarium chairs are
contoured heated bench chaises that if you are not careful will instantly tease y
ou into taking a quick cat nap with their warmth to soothe your whole body.


In celebration of the Chinese New Year, the spa is currently offering a custom treatment to honor the entire Year of the Water Snake. On a recent visit, I enjoyed the Destiny of the Water Serpent treatment. Once in the treatment room, I was asked by my therapist to be seated for a welcoming foot ritual while deciding on the aromatherapy oil and the level of pressure I preferred for my massage. This treatment included a full body massage designed to release tension and increase circulation in the lower back and shoulders. A warm mineral mud mask is then applied to the lower back and enveloped with moist heat for deeper penetration to "uncoil" this customarily tense and tight area of the body. A relaxing face and head massage concludes the treatment which lasts 90 minutes. Guests of the spa can enjoy this treatment at a reduced price if you are visiting Monday-Thursday $240 or Friday-Sunday $280. This pricing structure rings true for all of their services, so if you can plan ahead you will save yourself a few dollars.
Are you looking for a traditional way to relax your feet? If so, then enjoy one of China's most popular pastimes, the Chinese Foot Spa. Mandarin Oriental was the first to offer the Chinese Foot Spa experience in a hotel. Your experience begins with a steeping hot foot bath infused with invigorating or relaxing herbal blends and a natural exfoliation with jute fiber mini mitt and lemongrass soap. After moving to a comfortable reclining chair you will be offered a scented eye mask and heated abdomen pillow. If you opt for one of Mandarin's Chinese Foot Spa treatments, Detoxify or Replenish, your therapist will also apply a foot mask. Afterwards enjoy a pressure point massage along your feet and legs followed by an application of soothing lemongrass cream. All too soon your treatment ends invoking deep relaxation and complemented with a nice cup of tea. Bliss at its best!
The spa also offers a fully-equipped fitness center, yoga, pilates, and a multitude of exercise classes. Their beauty salon offers a range of hair, beauty, makeup, and nail services.
So what are you waiting for? Treat yourself to a spa experience you won't soon forget! To make reservations call (702) 590-8886 or visit their website
http://www.mandarinoriental.com/lasvegas/luxury-spa/.


************************************************************************

Paris Spa by Mandara
With spas around the world, Mandara offers Balinese-inspired services that each offer their own signature services. The name Mandara is Sanskrit and comes from an ancient legend about the god's quest to find the secret to eternal youth and beauty. That being said, you won't have to travel all the way to Paris, France to discover your fountain of youth. Tucked away on the second floor of the Paris Hotel in Las Vegas is the 25,000+ square foot facility simply known as Paris Spa by Mandara.
Whether you have the whole day to rejunivate or just an hour, you will find the perfect service to soothe your soul in one of the thirty treatment rooms. Unlike most spas, the Paris Spa has some treatment rooms that have natural light illuminating the room. Keep this in mind when booking your service, since some may prefer to opt for the more traditional dimly lit rooms. If a massage is your treatment of choice then you are in for a treat. Before your service you will be asked to select between four different essential oil blends, Mandara, Harmony, Tranquility, or Spice or, if you prefer, non scented oil is available as well.

On a recent visit, I had the opportunity to enjoy one of their signature treatments, the Mandara Hot Stone Therapy. Not only is this treatment therapeutic and relaxing, but it also helps to alleviate stiffness and soreness. For those of you who have never experienced a Hot Stone Massage, you will be amazed how beneficial it can be to your body. Now you say, how relaxing can hot stones be or even comfortable for that matter, but it is amazing. Stress melts away as smooth, warmed stones glide across your body in long, flowing strokes. The heat from the stones relaxes your muscles and melts away any tension your body may be holding on to. This treatment can be experienced for 50 or 75 minutes.
The spa facilities include a Eucalyptus steam room, sauna, whirlpool, relaxation area equipped with your usual tea, coffee, infused water, juices, and fruit, cardio-fitness center and retail boutique featuring Elemis and La Therapie products.

One of the more popular current specials offered at the Spa is Egyptian Exotic Ceremony of Milk and Ginger. Begin your journey with an exotic Lime & Ginger body polish, followed by a nourishing coconut milk wrap, a conditioning scalp massage and relaxing full body massage. Enjoy total relaxation as they cocoon you in an exotic Frangipani Ocean Float or Wrap complete with a full body massage, scalp and foot conditioning treatment. 2 hours/$195 (savings of over $145)

For more information, visit the
www.mandaraspa.com
or call (702) 946-4366.
************************************************************************


Crystal Spa & Salon
Crystal Symphony
For many travelers, vacation is all about exciting destinations, quality food and wine, and a chance to rest, relax, and recharge. Board the Crystal Symphony and you will discover a chance to experience this and so much more.
Today's sophisticated vacationer is concerned about maintaining their health and well being and definitely wants to be pampered. If you are new to the "cruise experience" you might be surprised to find a world-class spa right at your doorstep. This is the world's first Feng Shui-inspired spa at sea. Luxurious amenities include a sauna, steam room, and shower areas with multiple head and side body jets filled with Elemis spa products for your enjoyment. A private sundeck for relaxing before or after your treatment provides sweeping ocean views guaranteed to melt your stress away.

You may find your greatest dilemma is deciding which of the many spa menu offerings to enjoy. Facial treatments incorporate Elemis or La Therapie products designed to fit your individual needs. Feeling a little more exotic? Crystal Spa offers several rituals that are combined with their Elemis Deep Tissue Muscle Massage, such as the Lime and Ginger Salt Glow proven to invigorate and bring vitality to your face and body. If you still can't decide, there is always a very knowledgeable therapist or staff member anxious to assist you with any of your questions.

During the cruise, the Spa and Salon offer different specials at very reasonable prices. A recent visit found myself enjoying their "Top to Toe", a rejuvenating Aromatherapy Facial along with a Full Body Wellbeing Massage. A full 75 minutes all for just $129! Watch for the opportunity to participate in several informative and fun spa seminars focusing on hair and skin, such as the 5 Minute Make Over, all complimentary to guests.


Included within the Crystal Spa is a full service salon offering everything from hair styling, color, nails, and waxing. In 2007, Crystal Cruises introduced the smile-enhancing services of Go Smile teeth whitening and a menu of acupuncture treatments as well.

If fitness is on your schedule while you are away, then you won't be disappointed in the fitness center or activity programs offered daily. Fitness classes include yoga, stretch, abs, Pilates, spin and informative seminars such as How to Increase Your Metabolism, or Secrets to a Flatter Stomach will definitely keep your interest. Crystal introduced Nordic Walking onboard in 2009, and was the first cruise line to debut revolutionary Kinesis™ Personal fitness equipment aboard its ultra-luxury ships.

Travel with Crystal Cruises and enjoy a full schedule of health and well being, whether while at the Spa and Salon or dining in their restaurants offering healthy onboard dining choices.

Discover for yourself why Crystal Cruises consistently ranks among the world's most renowned resort and destination spas. The difference is really Crystal clear.
http://www.crystalcruises.com/

************************************************************************
Spa Cirse
at the Hotel Coral & Marina
Whether you are a seasoned spa aficionado or still looking for that perfect first time experience, what better way to relax then by the water.
Viewing water landscapes have long been known for its stress reducing, if not calming affect they have on our health. Personally, I love the ocean! Nothing says relaxation more than watching the sunset over a beautiful landscape such as the one you will experience when you visit The Hotel Coral & Marina in Ensenada Baja, California. Guests of the Spa will enjoy breathtaking views from either of the two outdoor or one indoor pool or Jacuzzis conveniently located for your pleasure.
Spa Cirse offers a multitude of massages, treatments, facials, and salon services, including a body treatment indigenous to the area. The Fango Treatment assists in muscle pain and replenishes minerals to ease tension and fatigue and comes from the volcanic valleys of Mexico.
When staying at the Hotel Coral & Marina, be sure and inquire about packages that offer you exceptional value. A recent visit allowed me to indulge in their "Spa Refresh" Package which includes a mini facial, back, neck and shoulder massage and pedicure or manicure all delivered by friendly, caring staff for just $90.00 for 2 hours.
If you desire a package without a facial or pedicure/manicure, then the "Spa Relax" Package might just be the perfect fit for you. Relax with an aromatherapy massage, body polish and hand and foot treatment for just $130.00 for 2 hours. Other Spa Packages are available at values not easily found at Spas in the United States.
If you are fortunate enough to reside in the "Cinderella of the Pacific" known as Ensenada, then you can purchase a VIP membership which includes their gym, tennis courts, pool and spa access, 10% off services and a complimentary service if you pay in the first seven days of the month. VIP membership requires a $50.00 registration fee and $100.00 individual per month fee.
Hotel Coral & Marina offers outstanding packages for guests to stay and play including spa, food and wine. To discover the "Baja Experience" at its finest, visit
www.hotelcoral.com
and enjoy your next sunset in safe, friendly Ensenada just 65 miles south of the border.
************************************************************************
Glow
A Mandara Spa at Tropicana Las Vegas
It's a new year and when it comes to making resolutions we should include a little time for ourselves, especially relaxing at a spa. What better way to pamper yourself than by indulging in a signature treatment at the Glow Spa.
The Tropicana Las Vegas has recently undergone a remodel and one of the highlights is the opening of Glow, a Mandara Spa. This intimate 10,000 square foot spa is a delight for both locals and visitors alike. Upon your arrival you will be asked to complete a registration card that will allow you to choose your glow, yes your glow! This sets the mood for your visit by custom-designing your room color, aroma, sound, and temperature for you during your treatment.
Guests can enjoy refreshments in the coed relaxation room while waiting for your therapist to escort you to one of the nine private treatment rooms. Before your treatment don't miss using their unique steam room complete with Shakra lighting and music to set the mood.
With more than 50 treatments to choose from, you will be sure to find your inner glow in one of them. Highly recommended and one of the Spa's Top Ten Glow treatments, the GLO 2 Facial®, is a complexion-reviving facial that starts with a resurfacing peel, followed by an oxygen wrap, the necessary extractions, facial massage and application of the face-freshening Triple Oxygen cream, face mask and eye mask. A hydrating enzyme pack and vitaminized oxygen spray complete your treatment. Your skin will be glowing thanks to a caring therapist and Bliss products.
Glow also offers a full service hair and nail salon, including a Mojito Manicure complete with your own Mojito to sip on during your treatment. Complementing the entire facility is a Fitness Center overlooking the hotel's pool area. Guests of the hotel are able to use the Fitness and Spa facility at no charge and locals can enjoy for just $25.00 per day or complimentary with a service.
The Spa offers a host of retail products that are used in their services such as Elemis and Bliss, as well as their own private line, Mandara Spa, featuring body butters, scrubs, and lotions, which are all available to purchase to continue your glow at home.
Visit their website
http://www.mandaraspa.com/glow
or call (702) 739-2680 to make your reservation. Locals receive a 20% discount Monday-Thursday.
What are you waiting for? Release your inner glow today!
************************************************************************
The Spa & Salon At CasaBlanca Resort
Just eighty miles from Las Vegas, many locals have already discovered this close to home little gem in the desert. The Spa at CasaBlanca Resort in Mesquite boasts heated mineral pools and a eucalyptus steam room to soothe those aching muscles all in a coed atmosphere.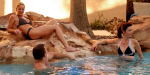 Set in a semi-secluded setting away from the casino and recently remodeled, The Spa offers some incredible specials that change with the season. Currently offered are several Pomegranate and Cranberry inspired treatments that guests will enjoy, such as a two hour cranberry scrub, wrap, massage and scalp treatment regularly $189.00, now just $159.00. Each seasonal Pomegranate and Cranberry treatments are available from November through February.
If you have already indulged in one of their seasonal specials, then why not try one of the more unique massage therapies called Shirodhara. The Shirodhara massage originated in India over five thousand years ago and is based on the concept of Ayurvedic body typing. Ayurveda's goal is to balance mind, body, and spirit. Vata, Pitta and Kapha are active elements that need to be in balance. A short scoring system booklet determines what element your body is in need of balancing, thereby determining the synergistic blend of essential oils used in your personalized treatment.

The word Shirodhara is derived from two words. Shiro means head and dhara means to flow. During your treatment a warm and consistent flow of essential oils are gently drizzled on the "third eye". This is the area just above and between your eyebrows. Your body will be cocooned in warm towels while you experience instant calming and relaxation as the oils continue to flow through your hair and scalp. To complete this 80 minute sacred treatment, a full body and scalp massage is incorporated for instant calm and rejuvenation.
The Spa is open every day from 7:00 a.m. to 8:00 p.m. and the usual reservations and cancelation policies apply. You can make reservations by calling either (702) 346-6760 or toll free (866) 401-6021.
Of course you can take advantage of any of these specials without being a guest of the hotel, but if you decide to indulge in a one-night stay at the CasaBlanca Resort, be sure to check out their $79.00 Golf or Spa Getaway. This package includes your choice of one round of golf, one 50 minute massage, or your choice of two 25 minute treatments such as a body wrap, facial, or massage. Reserve your Getaway Package today, or for more information visit their website
www.casablancaresort.com
.
************************************************************************
THE SPA
Four Seasons Hotel Las Vegas
Mention the words Four Seasons and if you are a seasoned traveler you will instantly recognize the attention to detail and the personalized service that a visit to THE SPA at Four Seasons affords.

The minute you arrive at the entrance to the hotel you are warmly greeted by their staff. No long walks through a noisy, crowded casino here, just a short leisurely stroll through a relaxing environment to reach this quiet sanctuary. This is a terrific added bonus for locals who often avoid the strip as a matter of convenience.



In addition to enjoying the fitness center, you can spend the day either before or after your spa treatment with access to their pool, weather permitting. The Four Seasons is known for their pool-side amenities such as Evian spritz and frozen fruits, so be sure to save some time to relax and enjoy.

Inside the Spa, you will find separate men's and women's facilities each with their own eucalyptus steam rooms and relaxation lounges. Within the sixteen treatment rooms you will have different menu options to choose from, many of them featuring organic or paraffin free products.

One of the more popular signature treatments offered is the Desert Oasis Stone Massage. Hot stones and their signature desert oil blend promote deep relaxation utilizing this ancient healing practice.

Several specials are available either through their website www.fourseasons.com/lasvegas or in house as a hotel guest. Current specials include an exclusive offer when you book and pay with any American Express card. Reserve an 80 minute Lavender Dreams treatment for the price of 50 minutes when you mention the Spa Escape promotion at the time of your reservation. Your experience begins with a full-body aromatic salt and lavender oil exfoliation followed by your therapist pampering your scalp and feet while relaxing in a cozy warm cocoon. A quick nap anyone? This offer is valid through March 15, 2012.



If you are a local, be sure and ask to be included on their spa email list to keep up to date on unique specials. Through November a Hot Toddy for the body, a devilishly decadent body treatment and a Harvest Glow Hot Honey Treatment are featured both using Farmhouse Fresh products. Farmhouse Fresh products are 90% natural, paraben and sulfate free. Not yet familiar with Farmhouse Fresh or THE SPA at Four Seasons Hotel Las Vegas? Visit in November and experience one of these heavenly treatments, and I'll bet you will find yourself returning again and again.

For reservations, call the Hotel at (702) 632-5000 and ask for THE SPA.

************************************************************************

Oleksandra Spa & Salon

It is common knowledge that a lot of locals choose to avoid a trip to the Las Vegas strip at all costs. In doing so, you may be missing the Oleksandra Spa & Salon, an intimate sanctuary within the Treasure Island Hotel.



This world class 15,000 square foot Spa & Salon is home to fourteen treatment rooms and a fitness facility. Fresh flowers and several beautiful mosaic tile art pieces complement the overall ambiance. Like most spas, robes and slippers are provided to each guest; however, many spas only offer just a few robe sizes, sometimes only one. Oleksandra robes range in size from XS to 6XL, thereby accommodating and ensuring comfort to everyone that may visit, no matter what your size.

Although the average spa guest probably does not consciously give sanitation much thought, it does, however, play an important part in every spa environment. How many spas rather than re-sanitize your slippers give you your own pair of flip flops to take home with you or use hospital grade sterilization on their equipment used for facials? Exactly!

Once you have settled into your attire, you might want to enjoy a coffee, juice, or tea before your treatment. If you are like me, and you are always looking for that new or unique treatment, you might want to try a Venik Massage in Banya. The banya or sweat bathing is a fundamental part of the Russian culture and is one of the simplest and most comfortable methods to rid the body of accumulated toxins. Basically the individual lies down on a bench in the sauna while the therapist increases the heat to induce sweating by slowly adding water and essential oil over the hot rocks. A birch branch is used to stroke, brush and tap the individual's body which enables the heat and circulation to increase and penetrate more deeply to relax muscle tissue and tendons followed by a cool-down.



If more traditional treatments are more to your liking, no worries, the Spa and Salon offers a little something for everyone from massages, facials, body treatments, hair services, hand and foot treatments, even airbrush tanning. Best of all, if you are a local you can receive a 20% discount seven days a week or join Treasure Island's Players Club and receive a 30% discount.

Children can enjoy their own day at the spa through their Princess Parties. An innovative and fun alternative to more traditional celebration gatherings, Oleksandra will custom design and provide a day to remember for your child and her friends.

Experience Oleksandra Spa & Salon for yourself and discover what you have been missing.

Call 702-894-7474, or toll free 800-944-7444 and ask for O Spa Reservations.

************************************************************************

The Spa At Four Seasons Resort Scottsdale
At Troon North

Baby it's hot outside and what better way to cool off and relax than to spend a day inside of a welcoming spa? The Spa at Four Seasons Resort in Scottsdale offers several refreshing specials this summer to help you do just that, including a Tantalizing Tangerine 80 minute massage and scrub combination for just $165.00 offered through August 31, 2011.


Located within the resort itself, this 12,000 square foot, full service Spa features 14 treatment rooms, including two private suites. Experience head to toe pampering with a comprehensive menu of services inspired by the desert.

One of the most interesting signature treatments offered is the Four Seasons In One. This unique offering was originally created in Scottsdale to enhance your sensory experience as you journey through the seasons.

The medley of massage techniques used throughout the 80 minutes begins with summer using a rich vanilla scented Lomi Lomi massage. As you transition into fall, enjoy a back exfoliation using honey oat buffing grains followed by a warming herbal spice lotion with hints of cinnamon and nutmeg. Get ready for winter with a scrub for the front of the body followed by a winter lotion benefitting the immune system. With your final season, spring, your body is wrapped in warm linens and the scalp receives a stimulating massage of citrus and lavender. Your final passage through the four seasons concludes with your face massaged with cool stones balancing both the warmth and coolness of spring.


If you are looking for a more desert inspired treatment, be sure and try the Jojoba and Prickly Pear Body Polish. This is a full body exfoliation with the assistance of a warm Vichy shower to enhance your relaxation. A soothing deep penetrating jojoba oil and prickly pear body cream, especially designed by Body Bliss, for this treatment leaves your skin smooth and moisturized and ready for another day. Upon completion of your treatment you are greeted by your therapist with a chocolate covered strawberry. Delicious!

Whether you are a local or visiting for the first time, you will find a multitude of choices to indulge in, a relaxing atmosphere, and friendly staff to accommodate your wishes.

Call the Spa for reservations at (480) 513-5145.

************************************************************************
Costa Del Sur Spa & Salon

Travel to the south end of the Las Vegas strip and you will discover the Costa Del Sur Spa & Salon inside the South Point Hotel, Casino & Spa.

With all spas, relaxation is the key component to a complete and satisfying guest experience. The Costa Del Sur Spa, with over 40,000 square feet and 28 treatment rooms, prides itself on pampering and relaxation.

When arriving for your appointment, save time to partake in all the spa has to offer, including what I would refer to as the "wet area." Whether it is a quick steam or sauna before a treatment or a more leisurely soak in a whirlpool, you will enjoy your time here. As an added bonus, experience their cascading showers that give off a waterfall effect.


Next dry off and slip into their relaxation room and enjoy a warm neck roll and a Lavazza cappuccino or espresso from a convenient pod machine while you wait. Although tea, which they offer as well, is more common than coffee, I found the choice of coffee to be an unexpected nice alternative.

The Costa Del Sur Spa offers many indulgent massage, body, facial, and couples treatments. The couple's area includes a Jacuzzi, steam sauna and relaxation lounge exclusively for your pleasure. This area can be enjoyed without a treatment for $75.00 per day per couple or complementary when each person books a service.


The couple's area is where the "Honey Do" list takes on new meaning for your significant other. Enjoy quality time with your honey in a private Jacuzzi tub for two while scrubbing each other with Pure Fiji milk and honey scrub followed by side by side massages.

Feeling more like a Goddess? Experience the Goddess of the Sun Ritual, the ultimate in pampering. Your treatment begins with an invigorating sugar scrub gently rinsed by an overhead warm Vichy shower. Your skin never felt so soft and silky as you are gently massaged from head to toe. Warm hand and foot booties further enhance your body treatment, while tension is relieved with a cool stone facial. Just when you thought your experience is complete, warm oil is massaged into your scalp leaving you feeling renewed to face another day.

In addition to the accommodating staff, the best part of visiting the Spa as a Las Vegas local is their 20% discount offered seven days a week, as well as a 10% discount on products offered for sale at the spa. So what are you waiting for? Grab a friend and visit soon.

Call 702) 797-8030 for reservations. www.southpointcasino.com

************************************************************************

WELL Spa At The Platinum Hotel

Still relatively young at just five years old, the Platinum Hotel & Spa is home to the tranquil and intimate day spa known simply as WELL Spa. A day spa differs from a resort spa in the sense that a day spa is open only during the day with no overnight stay available at the spa. For those guests wishing to stay overnight at the hotel, they will find a beautiful all suite, non-gaming, and smoke-free environment.

The WELL Spa is located on the 4th floor of the hotel. Guests of the hotel have the privilege of using the spa facilities, including the fitness center at no charge. A nice feature since most hotels today imposes a fee for just visiting the spa and enjoying a steam or sauna. Locals not staying at the hotel can enjoy the use of the spa, pool, and fitness center for only $20.00.


While relaxing at the spa either before or after your treatment, be sure and spend some time in the Serenity Room, a cozy lounge area divided by sheers for that semi-private feel. Why not enjoy their Platinum Signature Massage, including a Swedish Massage, that begins with a soothing warm back towel and ending with a gentle foot massage. Oh, and did I mention you also receive an invigorating spearmint oil scalp massage. Ahh…I can feel the stress melting away already!

If you have a chance to visit the WELL Spa as a couple, one of the most popular experiences is the Platinum Painting Party enjoyed in the Pittura Festa Room. No, there is no easel required to express your artistic side, only a brush, a partner and a sense of whimsy. Your experience begins in a private steam room and an invigorating body scrub. Next your artistic side is expressed by painting your partner with detoxifying spa mud, followed by a side by side Swedish Massage.


Whatever treatment you decide to indulge in, you will leave feeling renewed and refreshed. The WELL Spa offers different monthly specials, such as a Lemon Grass pedicure for just $55.00 in June. For future monthly specials you will need to call directly to inquire at (702) 636-2424. Watch in September for unique offerings at not to miss prices when across the valley spas, including the WELL Spa, feature several $50.00 treatments. Can't wait until September, then visit their website, choose a treatment, and book your reservation now.

WELL Spa---Be WELL, Feel WELL, Spa WELL at the Platinum Hotel.

http://theplatinumhotel.com

************************************************************************
The Spa At Bernardus
Your visit to the Spa at Bernardus will feel secluded, yet it is conveniently located in the heart of Carmel Valley. Recently awarded four stars by Forbes Travel Guide, this is an experience not to be missed. I suggest arriving early for your scheduled appointment to enjoy everything this wonderful spa has to offer you.
The spa itself has seven treatment rooms with one offering a private outdoor tub to complement your service. Treatments incorporate pure and natural ingredients indigenous to the area from the vineyards, gardens, and ocean. The spa includes several vinotherapies, especially appropriate since Bernardus Winery has many fine wines to tantalize the palate.
The Vineyard Romance, the perfect 100 minute Signature Treatment for couples, begins with a cabernet grape seed body exfoliation before adjourning to the privacy of an alfresco lavender grape seed bath. The bath is followed by a full body warm grape seed oil massage where after you receive a delicious grape seed herbal tea served just for you.
The Chardonnay Pedicure is 50 minutes of pure bliss. This treatment is enjoyed outside starting with a glass of their award-winning Bernardus Chardonnay and artisanal cheese plate while soaking any worrisome thoughts away in a chardonnay bubble bath. Your chardonnay bubble bath is followed by an exfoliating pure cane sugar and chardonnay grape seed scrub. Before your pampered toes are polished, your feet are massaged with a creamy chardonnay moisturizer.
Whatever treatment you are indulging in, be sure to experience the Warming Room, a beautiful relaxation area with comfy chaises that surround a fireplace. Here you may enjoy a selection of teas; fresh fruit and fruit infused water or discover the peaceful outdoor area complete with its own Warming Pool and meditation garden. What could be better than to relax either before or after your treatment poolside with your favorite book amongst sounds of bubbling fountains and scents of lavender, rosemary and lemongrass?
All guests of the Lodge are welcome to use the Spa facilities complimentary, which is a nice touch considering most spas require a booked treatment to be able to use the steam or sauna rooms.
After achieving the ultimate state of relaxation, you will be dreaming of your next visit to the Bernardus Lodge featuring this award winning Spa.
Visit their website
www.bernardus.com
or contact reservations toll free at (888) 648-9463 to reserve your experience.
************************************************************************
Energia Spa At The Intercontinental
The Clement Monterey
Who said good things don't come in small packages? Tucked inside at the Intercontinental The Clement Monterey is, as they like to refer to it, "A Place To Feel Good."
The philosophy of the Energia Spa is to restore your body to its natural state of blissful balance. To achieve this, Energia Spa uses the results oriented Hylunia Ayurvedic skin care line. Ayurvedic translates into The Science Of Life.
On a recent visit, I indulged in a Medley Massage tailored to my specific needs to provide both relaxation and therapeutic benefits. While waiting for my massage I was asked to choose from one of four essentials oils in the relaxation room.
When choosing an essential oil, each of the oils represents different aromas and showcases qualities to pair how your body may be feeling at the moment. The Kapha, which emulates motion, stimulation and energy, is a wonderful blend of Lemon, Orange and Mandarin. If you are looking for a more relaxing blend, why not try the Vata. The Vata combines Bergamot, Lavender and Ylang Ylang, sure to provide comfort to the mind, body, and soul.
When your treatment has completed and your therapist greets you outside of your room, you are given the usual glass of water; however, as an added touch you receive a piece of organic dark chocolate and your choice of an inspirational card to take along with you. This is a nice touch to complete your experience.
In addition to individual treatments, the Energia Spa has several facials, nail and foot treatments, signature treatments and packages available for your enjoyment. The Sweet Surrender is an 80 minute package that begins with a classic full body massage followed by a steamy herbal foot wrap and luxurious foot massage and exfoliation. Happy Feet at its best!
If Wellness Services are more to your interest, be sure and partake on one of their Fitness Walks with a personal trainer to Point Lobos or Garland Ranch. Although no regularly scheduled exercise classes are offered, private in room yoga and one-on-one personal training can be customized to your ability and preferences.


Energia Spa is conveniently located on Cannery Row in Monterey for both locals and visitors alike. Call (831) 642-2075 to schedule an appointment.

************************************************************************


The Spa At The Grand Del Mar
There is a reason why the word "Grand" is used in the title of this award winning stunning resort. From the moment you enter The Spa at The Grand Del Mar, you will understand why it is one of only 20 Five-Star spas in the country.
Upon check-in you are greeted warmly by personnel attentive to any needs or questions you may have regarding treatments or on the 21,000 square foot facility. The pathway leading to the women's lounge is beautifully appointed with calming ocean blues and creamy tones accented with framed Hermes scarves. The relaxation area is extremely inviting with its canopy lounge chairs, comforting blankets, and cozy fireplace. An outdoor patio, just off the relaxation area, is for the exclusive use of women and the perfect spot to enjoy a light lunch from their spa menu.
The men's lounge, however, is not lacking for luxury. Men will enjoy the club-style retreat atmosphere complete with a 40 inch flat screen television, crimson leather lounging chairs and the warmth of a fire in the stone fireplace.
While waiting for your treatment why not enjoy the European-style wet facilities, including steam, sauna, and indoor whirlpools in both female and male lounge areas.
Are you experiencing a stiff neck and shoulders pre massage? Why not enjoy a comforting warm neck roll while you wait? While most spas offer the usual teas, waters, and fruit, The Spa at the Grand Del Mar also offers delicious chocolates, mini muffins and cookies for that sweet tooth gratification.
The Spa's menu offers a wide range of treatments, services, and product line all developed by spa educator and consultant, Anne Bramham. The product line is used for all spa treatments and was developed exclusively for The Spa at the Grand Del Mar and is for sale in the Spa Boutique. It is a handmade organic product line that features only the purest essential oils, organically certified herbal and marine extracts and replenishing mineral clays.
A recent visit found me enjoying one of the spas signature treatments, Renaissance. This 90 minute treatment is a must-do experience. Mineral-rich mud combined with heated aromatic oil are applied as a precursor to a warm body wrap enjoyed while you rest and relax in a free-floating bed. The sensation is unique and very comforting as your body succumbs to total relaxation. This is followed by a Swiss shower and a stretching massage.
Complimenting The Spa is the Haim Salon offering a complete array of services along with a state-of-the-art fitness facility. Be sure to check out the activity calendar when planning your stay. The resort offers numerous complimentary fitness classes as well as a guided Canyon to Waterfall Hike led by an expert in flora and wildlife.
Soak in the ambiance of The Spa. I recommend you come early to rest, refresh and rejuvenate and take time to enjoy everything this award winning spa has to offer you.
The Spa at The Grand Del Mar is located on the lower level of the resort. For appointments and more information, please call (858) 314-2020; or visit the website at
http://www.thegranddelmar.com
************************************************************************
Spa Mio M Resort Spa Casino
Spa Mio is a four-star 23,000 square foot spa and salon complemented by a 5,500 square foot state of the art fitness center located within the M Resort Spa Casino.
Currently celebrating its 2nd anniversary, Spa Mio offers a monthly membership with two different packages for those who still want to work out and enjoy the spa atmosphere.
• Package 1 is $145.00 per month and gives you access for 30 consecutive days to both the fitness center and spa.
• Package 2 is $200.00 per month and gives you in addition to Package 1 some extra perks, including one complimentary 25 minute service of your choice to be used within 30 days.
Locals will especially appreciate the beauty, intimacy, and attention to detail upon checking in for your scheduled treatment. The Spa Mio staff are highly attentive to all your needs, even anticipating them before you ask. Just about every spa offers the visitor a private locker, a robe and sandals; however, Spa Mio adds that special personal touch by including grooming amenities and a bottle of water in every locker.
After changing, enhance your treatment and relax in the steam, sauna or hot tub wet areas. Thirsty? Be sure to try their Cranberry Spritzer, a delicious blend of cranberry and pineapple juice in the relaxation room. Often a common theme of relaxation rooms is a fire or water element. Spa Mio has chosen instead to display beautiful, tranquil videos of landscapes, water, flowers and fish on a large screen television to further your relaxation.
Everyone is looking to save a little green and go green these days, and Spa Mio at the M Resort currently gives you the opportunity to experience several specials. If you visit Spa Mio in March, be sure and try either the Organic Facial offered at just $85.00, a savings of $50.00 or the Organic Aroma Salt Glow. Both treatments are unique, natural and organic and use either Comfort Zone from Italy or Salt of the Earth products. Guests can also receive an additional 25 minutes free of charge to any regular priced 50 minute massage through March 31, 2011.
In addition to these specials, locals can enjoy a 25% discount on all regular priced treatments seven days a week. Since the majority of spas only promote a 20% locals discount and only if you visit Sunday-Thursday, I suggest you treat yourself and book you appointment soon.
www.theMresort.com
or call 797-1800 for reservations
************************************************************************
Sahra Spa & Hammam at the Cosmopolitan Hotel
Whether you are a novice or a seasoned pro at your favorite spa, you have to agree not all spas are created equal. Some spas lack an overall experience, while others rise to the top.
United, a United Kingdom design company has created a truly unique experience at the newly opened Cosmopolitan Hotel in Las Vegas. The overall concept is to emulate the elements of our own desert. To help create this more than 420 tons of sandstone were used from local quarries. Real veins of silver run throughout and reflect upon the silver ceilings and modern lighting.
Although the feel is designed to be peaceful and intimate, this $33 million facility is 47,000 square feet, including a salon and state of the art fitness center.
Sahra prides itself on the finer touches that you should come to expect, but often don't find in this same price point. How often do you have a choice of more than one robe size? Sahra offers four.
In order to prepare for your treatment, oversized lockers are provided as well as several areas to enhance your relaxation. Your typical amenities of steam and sauna are available, however, a cool mist room scented with eucalyptus and a vitality pool that incorporates an occasional monsoon rain shower to further the desert theme, are an added bonus. As relaxation rooms go, I prefer a fire or water element to soothe the soul, which was surprisingly overlooked.
When deciding upon a preferred treatment for yourself, consider enjoying the Hammam. There are only three authentic Hammams in the United States and Sahra with a $3 million cost to create is one of the finest.
Many of the products used in their facials and body treatments are top of the line and offer some unique, if not personal, aspects. Sahra has created an i Pad app for their Aromapothecary line that is customized to each customer based on a few responses given to your attendant. If you are familiar with NARS products, they are the only spa to offer a facial using them.
If either before or after your treatment you desire some privacy, why not secure one of their luxurious in spa suites to retreat. Either way, Sahra Spa is worth a visit.
Locals can enjoy a 20% discount Monday-Thursday with a membership type program to roll out within the next month.
************************************************************************
The Broadmoor Colorado Springs
The Broadmoor at Colorado Springs is a phenomenal property that has been awarded the Forbes Travel Guide Five-Star Award for a record 50th consecutive year. The Broadmoor claims 700 guest rooms and suites along with 44 cottage bedrooms. This resort has it all. Whether you are a golfer who enjoys the 54 holes of golf offered, the tennis club or the world class spa, there is something to be enjoyed for everyone that decides to visit. Complementing the property is 18 restaurants and 24 specialty retail shops. It is easy to see just how you can spend a few days or a week here and not be bored.
One of the greatest highlights of the property is their inviting and tranquil spa. The spa offers several spa treatment combinations or you can create your own. Having an appreciation for wine, I was particularly intrigued by the Wine Down spa package. This is a four hour treatment package that will allow you to enjoy the antioxidant benefits of wine inside and out. Included in this package along with the 20% gratuity is:
• 30-minute wine therapy sugar scrub for the body
• 50-minute Swedish massage with Olavie wine therapy oil
• Olavie wine therapy 50-minute manicure & 65-minute pedicure, accompanied by a glass of wine
If you would prefer an individual treatment, be sure to try the Mountain Showers Massage. This treatment incorporates hot stone massage, full body exfoliation with a special honeycomb mitt and an application of hydrating oil all performed under an overhead shower.
As an added benefit a luxurious herbal bath soak can be added to any treatment for just $20.00. Aroma options include lavender, almond blossom, orange and linden blossom, rosemary, spruce, or eucalyptus.
Either before or after your spa treatment, be sure and enjoy the sauna or steam room offered in both the men's and ladies locker rooms. There is also an aromatherapy room and fireplace lounge to relax and release any stress you might be experiencing.
One of my favorite areas of the spa, although co-ed, is the Mountain View Room overlooking the golf course and surrounding areas. Simply beautiful! Curl up with a good book and melt your troubles away. As with all quality spas, gourmet teas, water and fresh fruit enhance your visit.
************************************************************************